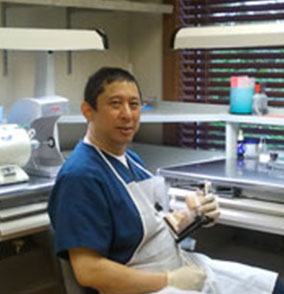 Advanced dental care, convenient service, and total patient comfort are what Dr. Ajey Varma and our team strive for at each visit. To enhance the quality and efficacy of our services, we utilize a dental laboratory to create custom-made and permanent dental restorations. With the aid of a dental laboratory, we can maintain a much higher standard of:
Quality: The lab technicians we work with are highly trained and meticulous in detail. We ensure that each dental restoration yields the proper fit and look before it is secured to your smile.
Communication: Dental labs allow for timely communication between the patient, doctor, and technician, which is the key to achieving the desired results. If you have specific requests or concerns for your restoration, speak with our doctor during your consultation so that we can ensure the dental restoration is to your liking.
Time: Performing the restorative process in a quality dental laboratory significantly decreases the amount of treatment time. In many cases, your dental restoration can be created and placed very quickly, reducing the amount of time you need wear a temporary placement or go without teeth.
We welcome any and all questions regarding the benefits of a dental lab in Tacoma, Washington, and invite you to contact our office at 253-752-6915 for more information. Our prosthodontist and team look forward to caring for your smile to the highest degree.